London, New York, Paris…and The Gaza Strip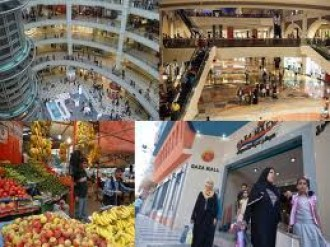 Apparently some areas in The Gaza Strip are in good company.
According to the article published on Arabic news website, hadhara.net, entitled "In Central Gaza $20,000 a Square Meter" the price for buying a piece of property on Gaza City's main street, Omar Almukhtar – as the article's title suggests – could cost you as much as $20,000 a square-meter.
The price for one square-meter in the Jabalyah Refugee Camp on the coast could go up to $18,000.
These prices resemble the prices of properties in major cities in the West.
Please don't misunderstand me – most people in the Gaza Strip struggle financially. However, there are millionaires in The Gaza Strip. Some one to two hundred people connected to the Hamas government make $1,000,000 a month. Their income source is the tunnels industry. These people, according to one Palestinian analyst, encourage continuing rocket launches on Israeli cities and communities because from their perspective, instability and tension is good for business.
Here is the link to the original article http://www.hadhara.net/showdetail6860.html
For more on what makes Gazans rich please read my article Hamas' Kingdom of Crime
If you want to have a better understanding of the news and what really drives the unfolding events…
Read the latest book of Avi Melamed,
INSIDE THE MIDDLE EAST | ENTERING A NEW ERA, available now >>>
Follow me on Twitter @AviMelamed; Facebook @InsideTheMiddleEast; for more Videos on YouTube https://www.youtube.com/c/AviMelamed
I can always be reached at Av*@Av********.com